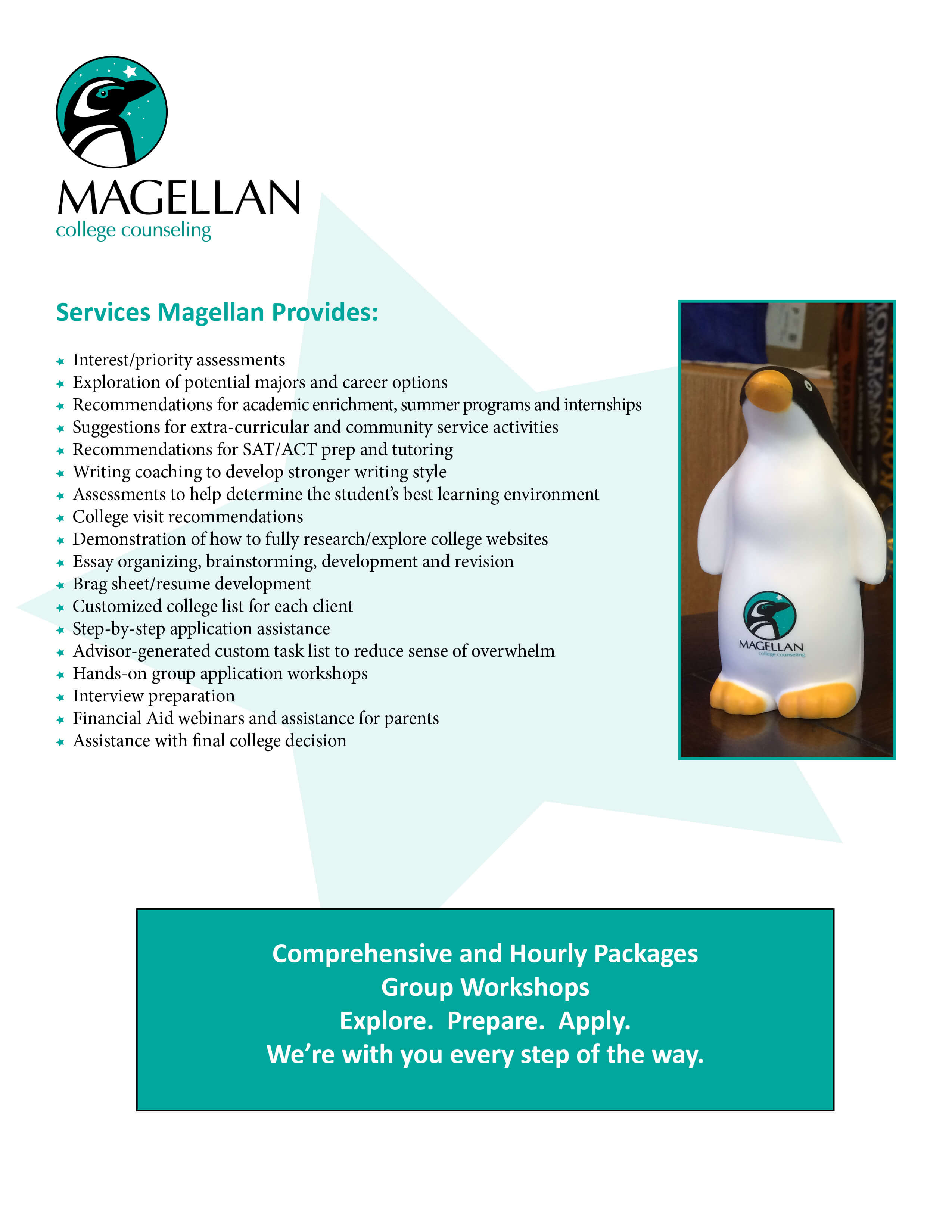 Mag­el­lan Col­lege Coun­sel­ing was ready to take their com­pa­ny to its next lev­el and hired me to cre­ate a logo to rep­re­sent their brand promise. An iter­a­tion of a com­pass to "nav­i­gate the col­lege process," had been dis­cussed, but was dis­missed because it was already in use by oth­er, sim­i­lar com­pa­nies, whose actu­al name didn't have such an obvi­ous con­nec­tion to navigation.
An exten­sive web search revealed inter­est­ing infor­ma­tion about Fer­di­nand, includ­ing his use of the stars for nav­i­ga­tion as well as his role in iden­ti­fy­ing a new species of pen­guin, named appro­pri­ate­ly (but still hard to say),"Magellanic." Since col­leges have mas­cots, devel­op­ing a logo using an ani­mal thus pro­vid­ed Mag­el­lan Col­lege Coun­sel­ing with an even more relat­able sym­bol, its own mascot.
Nick­named "Mag­gie," The use of bold lines and a lim­it­ed palette with clear cool turquoise, reminds us of the water Mag­el­lan crossed. The use of "opti­ma," a font pop­u­lar­ized by May­belline, appeals to both the col­lege bound stu­dent and more impor­tant­ly, his or her moth­er, the pay­ing client.
The key­stone of any brand­ing cam­paign is the logo — but that's just the begin­ning. We sup­ple­ment­ed this logo with a num­ber of print­ed pieces rein­forc­ing the brand, and con­tin­ue to cre­ate con­tent for the Mag­el­lan website/newsletter with col­or­ful, humor­ous sea­son­al illustrations.